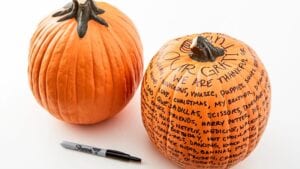 Walk of Thankfulness
Concept:  As we prepare to celebrate Thanksgiving in a year that has brought great strife and conflict to our world, St. Nicholas Church would like to offer you a quiet contemplative space to give thanks for the many things for which we can be thankful.
 Starting on Sunday 1 November 2020 St. Nicks will have a designated area on the campus.  We ask you to bring a pumpkin to place on the walk listing the many things you have to be thankful for.  We are praying that many of you will not only bring your own pumpkins, but tell your neighbors and friends and ask them to join you in sharing this walk of thankfulness.
Because it is outside, it should be safe for folks to stroll and contemplate.  We would ask that you be prepared to wear a mask and keep safe distances if others are enjoying the walk also.
What we need from you:  Take the time to give thanks for the many blessings the Lord has given to you.  Write them down on a pumpkin with a permanent marker.  Bring the pumpkin by St. Nicks and drop it off so we can place it on the designated path.
We will have some pumpkins available on the Porch at Jacoby, our Parish Life Building.  You can spend some time on the porch rocking and thinking as you share those things you are thankful for.